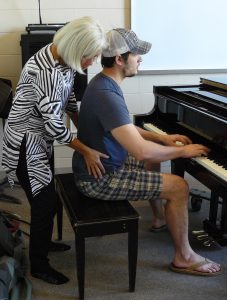 I offer a free consultation for anyone interested in meeting me before a first lesson.  This consultation can be done in person or online.
Private lessons are 45 minutes long, although you should plan on an hour for your first lesson (no additional charge).
Please contact me for detailed information regarding private lesson, small group and workshop fees.  Discounts are available for a commitment of 5 or more lessons, as well as for pre-college and college students unable to pay the full fee.  I want this work to be available to everyone!
In Person
I teach private lessons in both Columbia and Greenville, South Carolina.  In-person lessons usually include a guided touch component and often table work, neither of which is required for learning AT. We can openly discuss your interests and determine the best learning situation for you.
Online
Online lessons are available anywhere in the world through video conferencing (Zoom or Skype).  Online Alexander lessons are an excellent alternative or addition to in-person lessons.  
Workshops and Small Group Lessons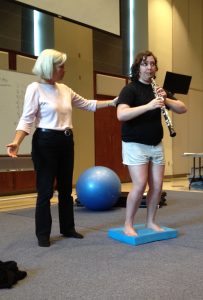 Group lessons and workshops provide a unique learning opportunity for interaction through group activities, observation and discussion. Small groups can range from 2 to 6 participants, and workshops generally involve 10 or more people.  Group lessons are available online as well.
Group sessions and workshops can be custom-designed to meet the specific needs of your students, colleagues, corporate co-workers and friends:
At your place of work
As part of a conference 
At your school or teaching studio
At a wellness studio
At camps and retreats
Please contact me to discuss small group and workshop fees.  
If you are ready to schedule your first session or if you would like a consultation, click here.